Our Talent Acquisition Division is comprised of extremely talented, energetic, and accomplished professionals who know how to connect our clients with the right people. CTC's full-life cycle recruitment process begins with our account managers building a relationship with the client to understand their vision and culture, team and project composition, technologies, requirements, hiring processes, priorities, budget expenditure, and immediate and future staffing needs. Our dedicated team of account managers and recruiters then attract, qualify, and place candidates for them. CTC invests in modern recruiting and social media tools to find the best candidates for our clients.
CTC is a certified small business that works with large well-known brands. We compete with the largest staffing vendors across the nation and are motivated to make our mark in the industry. As a recruiting service partner, CTC serves as an additional marketing channel for our client organizations, as our recruiter's pipeline with hundreds of individuals each week and inform them about the perks of working for the client company.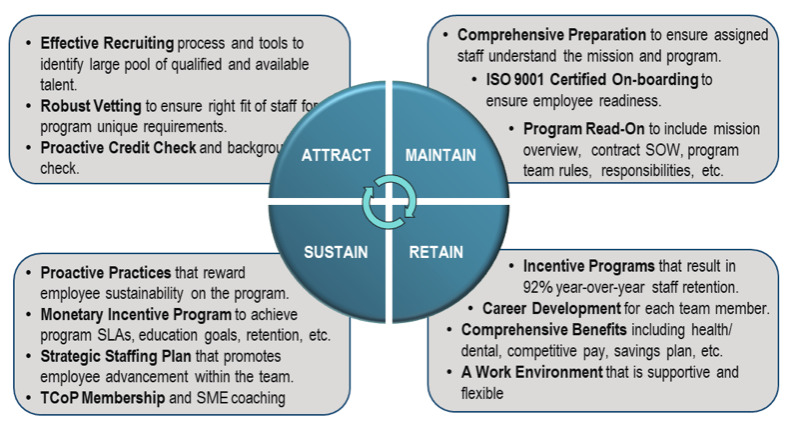 CTC keeps up with job market trends by utilizing and investing in multitudes of recruiting and social media resources on a daily basis. From this knowledge, we provide an accurate assessment of what roles are hardest to fill, and what steps should be taken to meet client demands.
CTC brings a unique blend of recruiting capabilities that combines the best of "old school" recruiting – personal networks, connections, and human capital investment – with the best of "new school" recruiting including:
Emerging and innovative technology (public and proprietary) including chrome extensions, advanced Boolean logic, x-ray and image searching, and keyword mining.
Online utilization of job boards, social platforms, and mobile apps.
Efficient automated screening, Geo-fencing, universal search methods, and search progression.
With our approach, CTC supports the customer's mission in a timely, cost effective manner. Our Talent Acquisition Team (TAT) excels through significant internal investment, the application of state-of-the-art technologies, and a focused dedication of resources. Our approach allows a CTC recruiter to produce at the efficiency of three or four typical recruiters. CTC utilizes a best-in-class enterprise recruiting SaaS tool that uses Artificial Intelligence (AI) and Machine Learning (ML) technology. With AI sourcing, the screening and hiring process sees significant improvements in time-to-hire and time-to-fill allowing CTC to support Mission Critical objectives as well as enhance the candidate experience.
Additionally, this tool automates the mundane and time-consuming tasks of emailing and texting candidates and allows the team to develop a "drip marketing" campaign that nurtures talent communities, engages passive talent, and develops a pipeline of candidates. In addition to the 30,000+ vetted candidates in our database, this sourcing tool provides CTC access to over 500 million resumes worldwide.